Post by bhb on Jul 17, 2013 12:15:27 GMT -5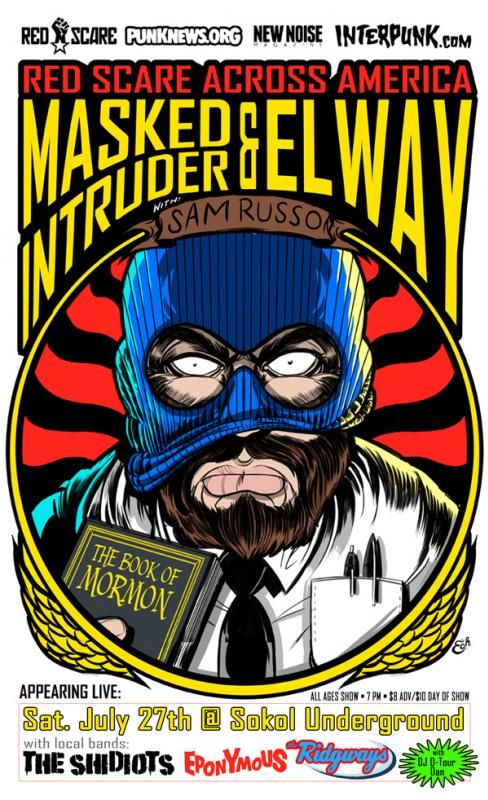 GET TICKETS HERE >>
dtourrecords.limitedrun.com/tickets/89-masked-intruder
More info:
www.facebook.com/events/128065117385498/
++ MASKED INTRUDER ++
The best pop-punk band you hope never gets out of prison.
Masked Intruder is a four-piece pop punk band. Their label describes them as Descendents meets Jersey Boys; but what's that supposed to mean, smart guy? We would probably include these influences as well: Bonnie and Clyde, Weezer, Leslie Gore, the Hamburglar, Buddy Holly, Ramones, etc.
www.facebook.com/maskedintruder
++ ELWAY ++
Elway is an American punk rock band from Fort Collins, Colorado. Their sound is a unique and inebriated take on a time-tested formula: aggressive punk rock with soaring melodies coupled with lyrics ranging from that of the sad sap to the indignant atheist with a bevy of homespun dick jokes.
www.facebook.com/ElwayTheBand
++ SAM RUSSO ++
Sam Russo is a singer-songwriter from Haverhill, England. As well as writing songs he has written two novels entitled "Romancing the Neon Whores of Haverbowl" and "Trouble with a Capital T - The Crystal Stories of Tab Samuels". He lists his influences as "Bad writing and ACDC".
www.facebook.com/SamRusso113
Local acts....
++ THE SHIDIOTS ++
Blick, Kick, and Dan go back to High School and Sir Gregory was found along the way, but is undoubtedly the coolest motherfucker out there...Nick later left... Then Rob was found at a local Goodwill for 98 cents on a wednesday red tag special... Now, despite a recent visit to jail, the Shidiot foursome reigns supreme to this very day...
www.reverbnation.com/theshidiots
++ EPONYMOUS ++
Eponymous formed in late 2000 in Omaha, NE. An amalgamation of high school students who had no idea how to play their instruments. Starting out at places like the Cog Factory, the Ranch Bowl, and the Asylum, Eponymous eventually got to a point where the music was at least recognizable as music. The band has changed members many times over the years, and will continue to play until we are dead or in prison. Or both.
www.reverbnation.com/therealeponymous
++ THE RIDGWAYS ++
Old school pop punk from Lincoln/Omaha
www.facebook.com/theridgways402